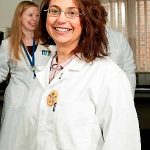 Sarah Baatout
SCK-CEN,
Belgian Nuclear Research Center, BE
Prof. Sarah Baatout is director of the radiobiology unit at the Belgian Nuclear Research Centre (SCK CEN) in Mol, Belgium, where she leads research in the field of radiation biology, radiation protection, space biology and space medicine. She also teaches as guest professor at Ghent University and at the Catholic University of Leuven, Belgium.
For more than 20 years, her lab has been investigating the impact of ionizing radiation on health through the development of better radiotherapy treatments for cancer patients, the discovery of innovative biomarkers for personalized medicine of astronauts and patients to ensure a better risk prediction and understanding of radiation susceptibility of each individual. S. Baatout is also currently studying the impact of cosmic radiation to better understand how human physiology is affected by space radiation and how to better prepare astronauts for longer missions to the Moon or to Mars. As space human exploration evolves to ensure that astronauts remain safe, healthy, and productive for missions to the Moon, to Mars and beyond, space radiation is recognized as THE showstopper. It is thus imperative to develop innovative ways to better protect astronauts and increase their radiation resistance from space radiation. This, to ensure the success of human exploration and protect astronauts' health. S. Baatout travelled to the Belgian Princess Elisabeth Station in Antarctica to study the evolution of health in this extreme environment where the degree of isolation and confinement is high and best suited to long-duration human missions in space.
Sarah Baatout is also co-chair of the Belgian representation at UNSCEAR (United Nations Scientific Committee on the Effects of Atomic Radiation) and was awarded by the Royal Academy for Sciences and Arts of Belgium, the prestigious Wetrems prize for the best discovery in the field of natural sciences. Presently, Sarah Baatout is also secretary/treasurer of the European Radiation Research Society and also a member of 2 advisory committees for the European Space Agency: the Human Spaceflight & Exploration Science Advisory Committee and European Space Science Committee. She is/has been the (co-)-promoters of 5 Postdocs and of 15 PhD students and is the (co-) author of some 150 international papers.
Recently, she received the award of the "BeSpace personality of the year", a recognition for her research and outreach achievement in the space sector and was also invited by King Philippe and Queen Mathilde invited her to the Royal Palace in Belgium as Woman of the Year for her commitment to society. For more information, watch her TEDX talk: https://www.youtube.com/watch?v=e607t5AeIxk