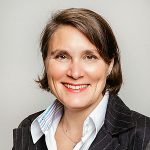 Caroline Lambert
European Science Foundation
Caroline joined the ESF in 2016 to support the financial transition of the association as a member of the Management Group. She takes care of all financial aspects of the organisation including accounting, management control, cash management, legal and fiscal aspects as well as reporting, especially EC reporting. She developed an effective reporting mechanism at ESF as well as new procedures.  
As a former auditor and head of management control unit in big groups, she has a strong experience in management control in industrial environment where she developed project management skills. She has also worked as a CFO in a non-profit organisation for 10 years where she managed 250 entities of volunteers while consolidating and reporting to various boards. 
She holds a European MSc in business sciences and European affairs and a master's degree of accounting, law and French tax.