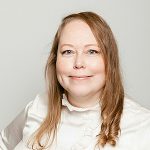 Mari Kolehmainen
European Science Foundation
astronomy and astrophysics
Mari has a long experience in academic research, in the field of astronomy and astrophysics, as well as scientific projects management and public engagement. 
She advises the European Space Sciences Committee and supports its Astronomy and Fundamental Physics and the Life and Physical Sciences panels. She manages several projects for the committee, including community surveys, scientific studies, and publications. She also participates in EC-funded projects, bringing her scientific expertise to the planning and management process. 
Mari holds a PhD in high-energy astrophysics from the University of Durham (UK) and a Master of Science in Astronomy from the University of Helsinki (Finland). Before joining the ESF, she worked as a postdoctoral researcher at the University of Southampton (UK), University of Oxford (UK), and Strasbourg Astronomical Observatory (University of Strasbourg).