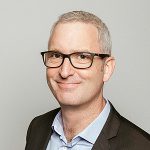 Nicolas Walter
Chief Executive Officer, European Science Foundation
Nicolas joined the European Science Foundation in 2002 as a Junior Science Officer. He later moved on to the position of Science Officer, then of Corporate Science Officer from 2016 to 2019 and was appointed ESF's Chief Executive in July 2019. 
During these 19 years serving the ESF and its expert boards and committees, he has been involved in many science policy initiatives in the domains of European marine, space, polar and materials science. He has also initiated and managed over 12 projects and studies financed by the European Commission and the European Space Agency and started developing the ESF grant evaluation activities in 2009. 
In his previous position as Corporate Science Officer, Nicolas supervised and developed ESF scientific operations, including overlooking the implementation of external contracts and developing the ESF grant evaluation partnerships. He was also the Executive Scientific Secretary of the ESF's European Space Sciences Committee – ESSC – and contributed to the development of the  Europlanet, European Astrobiology institute and Plan S Executive Offices, all hosted by ESF.  
Before joining the ESF, Nicolas served as Project Engineer at the French space agency (CNES) in Kourou, French Guyana. He holds a Master of Space Studies from the International Space University and a bachelor's degree in business management and innovation from the University of Strasbourg.