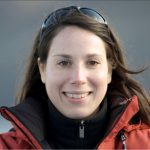 planetary geology, instrumentation, rover operations, analogues
Nicole SCHMITZ is a senior research scientist, instrument engineer and project manager at DLR's Institute of Planetary Research. She received her diploma in Mechanical Engineering with a focus on Aerospce Engineering from RWTH Aachen in 2006, and subsequently worked at DLR's Institute of Space Simulations in Cologne and at the Institut de Physique du Globe de Paris (IPGP), before joining the Planetary Geology group at DLR's Institute of Planetary Research. At DLR Berlin, she combines her background in engineering with her work experience in planetary geology.  
Her research work is focused on the remote and in-situ study of planetary surface geology using data obtained from imagers, spectrometers, and other instruments on various past, current and future spacecraft missions. Nicole has led and/or been involved with the design and development of numerous imaging instruments for remote sensing and in-situ analysis of planetary surface geology, mission planning and operations, and science activities for martian, jovian, lunar, and asteroid missions. She is the Co-Principal Investigator of the PanCam instrument on ESA's ExoMars rover, and a Co-Investigator of the Mastcam-Z instrument on NASA's Perseverance rover. Other mission involvements include the Japanese Hayabusa-2 Asteroid Sample Return mission, ESA's Jupiter Icy Moons Explorer JUICE , the Martian Moons Exploration Mission MMX, and the Russian-led Luna-27. She currently chairs the ESA Topical Team on ""Fundamental and exploration science at the lunar poles" . She is passionate about field work and has > 10 field seasons experience in Svalbard, the Faroe Islandes and Antarctica to test Mars mission instrumentation in Mars-analogue environments.